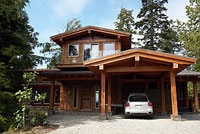 American Business & Personal Insurance, Inc., can make it easy for you to get a homeowners insurance quote in the state of Washington.

Whether your home is a single family residence, a condominium, or a townhouse, we can help you get insurance. Are you are a new homeowner needing a policy to buy your first house or a seasoned homeowner shopping around for a better deal? We also provide quotes for rental property insurance, earthquake insurance and umbrella insurance. Please call us and let us help you find a good policy.

Choose a method of contact below and let's get started.

Call us at (206) 361-0600.
Email us at jimm@abpi-inc.com
Fax us your current policy at (206) 365-5014.
Complete the form below and we will contact you.
Homeowners Insurance Quote Request

To help us give you an accurate homeowners quote, please gather together the following information and have it ready when we communicate:

Driver/s' social security numbers - please call us with this - (206) 361-0600.
A copy of your current insurance's declaration page
Number of claims made in last 3 years
Current value of home
Number of levels and square feet of each level
Type of foundation
Age of electrical system
Age of plumbing system
Number of chimneys
List and value of any special valuables you would like insured (jewelry, fine art, computers)
We Can Provide You Coverage to Protect Your Assets.
PLEASE CALL US at (206) 361-0600.