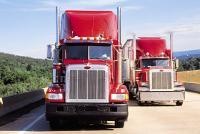 American Business & Personal Insurance, Inc., can make it easy for you to get trucker insurance in the state of Washington.

If you are driving a big rig or own a fleet of them, we can get you truck insurance. Choose a method of contact below and let's get started.

Call us at (206) 361-0600.
Email us at jimm@abpi-inc.com

Fax us your current policy at (206) 365-5014.
Complete the form below and we will contact you.
Trucker Insurance Quote Request

To help us give you an accurate quote, please gather together the following information and have it ready when we communicate:

List of drivers, their full names, dates of birth, social security numbers, drivers license numbers
Vehicle Identification Number (VIN) for each vehicle
Your Trucking & Package Policy FACE Sheets
Three year Loss Runs
Quarterly Gas Tax Receipts
We Can Provide You Coverage to Protect Your Assets.
PLEASE CALL US at (206) 361-0600.