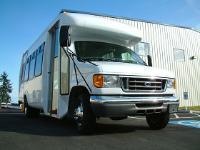 American Business & Personal Insurance, Inc., can help you obtain insurance for your party bus business in Washington State.

What is a party bus? It is a multi-passenger shuttle bus that has been remodeled on the inside to resemble a long limo. They are hired by people who are celebrating a festive occasion such as a wedding, graduation, or a corporate event. Party buses are a fun way to travel together without having to worry about guests drinking and driving. We help insure party buses. Choose a method of contact below and let us help you get started:

Call us at (206) 361-0600.
Email us at jimm@abpi-inc.com.

Fax us a copy of your current policy at (206) 365-5014.
Complete the quote request form below and we will contact you.
Party Bus Insurance Quote Request

To help us give you an accurate quote, please gather together the following information and have it ready when we communicate:

A copy of your current party bus insurance policy
Driver/s' full legal names, drivers license numbers and dates of birth
Vehicle Identification Number (VIN) for each party bus
Year, make, model, Gross Vehicle Weight (GVW), # of passenger seats, and purchase price
We Can Provide You Coverage to Protect Your Assets.
PLEASE CALL US at (206) 361-0600.